Choose a small TIPS for a tool
[Tool Handle]
PP resin handle
The use of PP resin handle will always have a feeling of disabling, and the tool is also a low-end tool. Some brands are loud, their PP resin handle cutters, prices are as high as hundreds, such a brand when consumers are brain-white, despise consumers do not understand the knife, net to earn IQ tax. Buying a PP resin handle should be carefully considered and prevent a pit.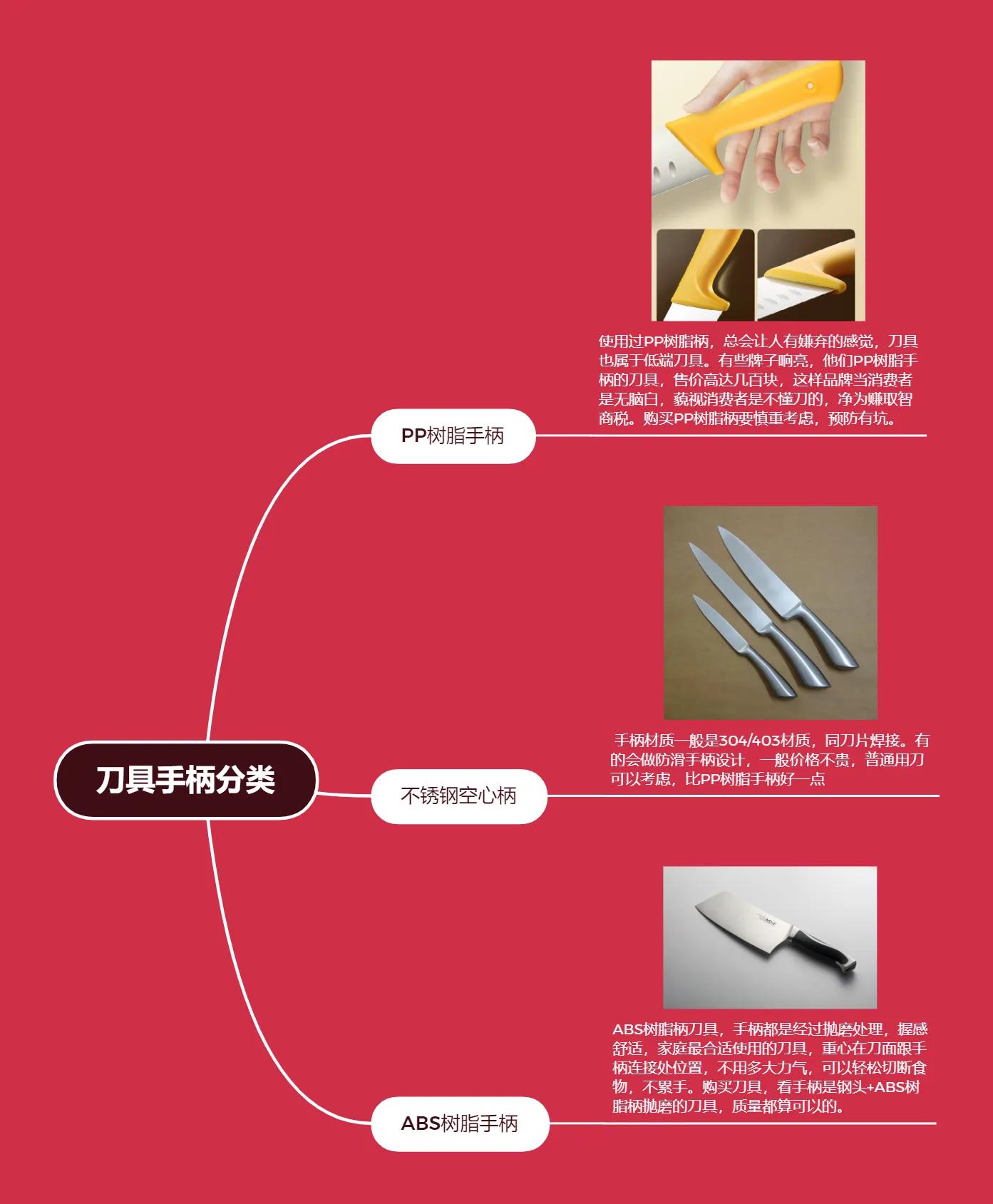 The handle material is generally 304/403 material, welded with blade. Some will do anti-skid handle design, general price is not expensive, ordinary use knives can be considered, better than PP resin handles
ABS resin handle
ABS resin handle tool, the handle is abcrubassed, comfortable, the family is the most suitable tool, the center of gravity is positioned at the knife side, do not need much strength, you can easily cut off the food, not tired. Purchase the tool, the handle is the steel head + ABS resin handle, the quality is ok.
Wooden handle
[Wooden handle tool, the appearance of the handle is better, the family uses the tool, the map is beautiful, and the wooden handle tool will be selected, and the market is in the market, and the wood handle is watched. Explanation, packaging instructions have labeled wooden handle information. Some commonly used wooden handle wood, from time to good order, there are colorful wood, brandy, sour, olive branches, ebony (ebony)
G10 (Composite Handle of Glass Fiber Cloth and Epoxy Resin)
G10 handle material, good stability, compare corrosion resistance, wear resistance, acid and alkali resistance, in the kitchen, it is excellent in performance. Generally, the Damascus tool is more than the G10 handle, the price is slightly small, does not care, buy G10 handle tool, the appearance is unique.
Stable wooden handle
Stable wooden belongs to high-density wood, no deformation, no cracking, no emission, generally used for high-end products such as knives, cars, airplanes, each piece of pattern is unique, like human fingerprints, the disadvantage is cost high, general Used for high-end tools.