Latest award | Fasaka German kitchen new classic series knife to win a successful design award
In the winter of 2021, the Fasaka brand carefully created a new kitchen product with a breakthrough design concept and an innovative appearance.
Fasaka Kitchen Kitchen Sword New Classic Series -In order to allow more families to have a relaxed, time -saving kitchen experience. Let users fully experience the many fun of the perfect cooperation between people and knives in the entire cooking process. Each of the design lines of the knife shape shows beautiful and exquisiteness, and touch into the design grip of ergonomics, so that it is comfortable and natural. After hundreds of processing craftsmanship, the new classic Fasaka kitchen knife series, you can sprinkle your cooking in the kitchen and fall in love with this kitchen.
Fasaka Kitchen Kitchen Kitchen Kitchen Classic Series -provides bold and practical kitchen solutions for more families: choose high -end steel (5CR15Mov) with advanced modern production technology, creating a set of high cost -effective knives, so that consumers can be appropriate Get higher and durable products in the budget.
Fasaka's new classic series -German design style, simple and sharp knife shape, focusing on functionalization, can be described as unique. In order to adapt to the use of different users, we have designed a long finger support at the handle to improve the comfort and achieve effort. The end design of the handle has different icons to correspond to the main functions of each knife to ensure that the user uses different knives when using different tools to choose different tools. More intimate and smooth.
Fasaka Kitchen Kitchen Kitchen Kitchen Kitchen Classic Series —— The knife seat with beylum logs is the main material,
Wood performance is stable, simple and high -end. Whole set of knife
Combined from four small knife seats, users can buy a whole or single purchase according to their needs. Each small knife can be combined with magnetic freedom to adapt to the flexible use of different kitchens.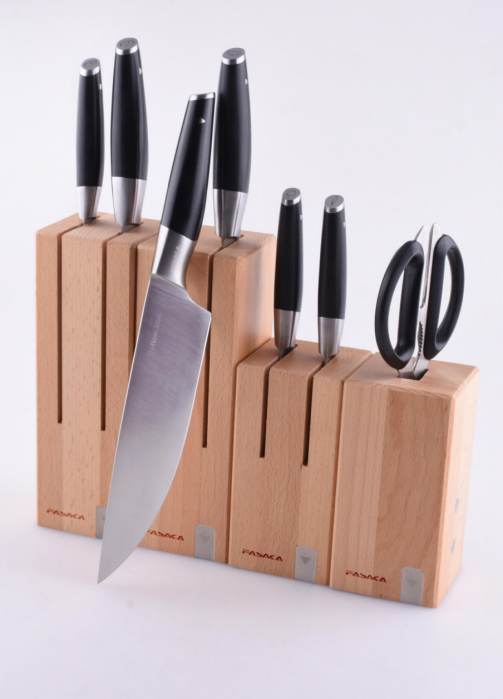 The set can be freely combined with 6 different tools:
8 -inch chef knife (ABS+stainless steel handle): The blade is sharp and comfortable, whether it is cut fish, meat or vegetables;
8 -inch bread knife (ABS+stainless steel handle): Bread will be used as a staple food at home and abroad. Bread knife is one of the essential tools. The sharp sawtoral blade of the bread knife can easily cut out any bread food.
8 -inch cut meat knife (ABS+stainless steel handle): The overall knife shape is sharp and sharp. As a tool cutting tool, it is it.
3.5 -inch beef steak blade (ABS+stainless steel handle): As the name suggests, it is dedicated to cut beef steak
,,
In particular, it emphasizes its feelings and elegant lines when dining.
3.5 -inch peeling knife (ABS+stainless steel handle): The length of the tool is the most suitable size in ergonomics, and the knife type is suitable for cutting of various types of fruits and vegetables.
8 -inch function kitchen cutting: It can be used for cutting meat, cutting vegetables, cutting fish, etc. The collection of multi -functions, which can be disassembled and cleaned, unique.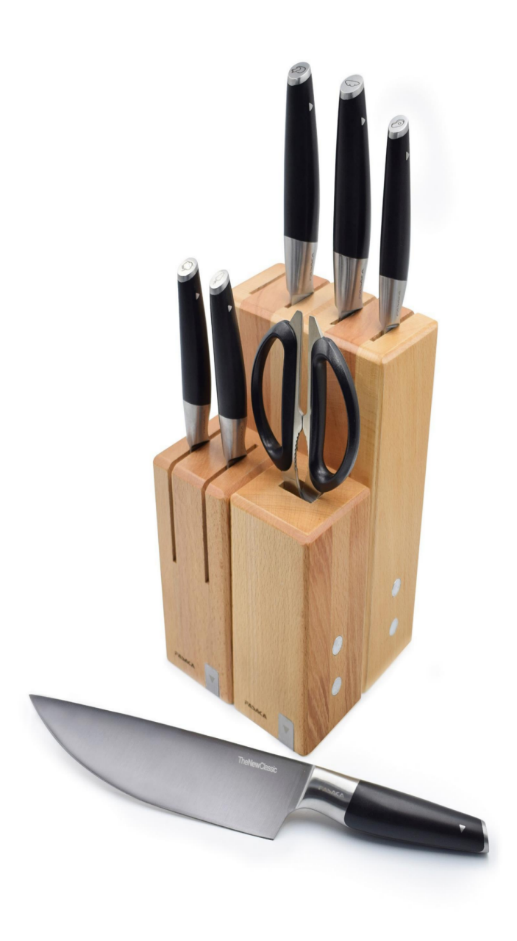 From the formation of design concepts to listing sales, after repeated testing and verification, it has been continuously improved during the process, and it takes two autumn and winter to finally be completed. The current product production process is mature, and the next stage will be optimized by the product. With the premise of retaining the appearance and functions, it will be incorporated into higher -end materials and processes to create a Fasaka high -end kitchen knife set. The product still maintains high cost performance with the foundation of quality stability. The product has successfully entered the international market and has become one of the hot -selling products of kitchen knives on Amazon and other platforms. Fasaka will definitely make more consumers passionate about the kitchen experience, making kitchen life more exciting, more interesting, and easier.