Auto repair product recommendation 丨 Satajet 1500 B spray gun water paint spraying tool
Auto repair product recommendation 丨 Satajet 1500 B spray gun water paint spraying tool
SATA -ingenious craftsmanship World Famous Spray Equipment Production Enterprise
SATA has long provided high -quality product supporting services for Chinese automobile manufacturers, bus factories, automotive modification plants and automobile maintenance industries.产品包括各种环保(HVLP)、省漆(RP)、高负荷压送式(1000、3000K)喷枪和自动喷枪及相关设备(油水分离器、呼吸面罩、隔膜泵、内压式供漆罐、 Plunger pump, washing machine, central breathing air protection system, etc.).
Shenzhen Mei Shilian Technology Co., Ltd. has passed the ISO 9001 quality management system certification and IS 014001 environmental management system certification. In 2003, 2007, and 2011 Importer "award. In 2005, he became a member unit of the "China Automobile Maintenance Industry Association" He "China Automobile Maintenance Equipment Industry Association", and has won the honorary certificate of "Top Ten Suppliers in the National Automobile Maintenance Industry" for ten consecutive years. Since 2009, it has been supported by the "National Vocational Group Automobile Application and Maintenance Skills Competition" jointly sponsored by the Ministry of Education and the Ministry of Communications for 8 consecutive years, and actively cooperates with other car brands such as Mercedes -Benz, Porsche, Volkswagen, GM, Honda and other car series. Carrying out training and painting competitions, and won the "Best Spray Partner" certificate awarded by various cars. After more than ten years of market training, with the booming development of the Chinese automobile industry, with its own forge and hard work, Mei Shilianke has become a senior well -known enterprise in the car paint industry.
Water -based paint spraying weapon -SATAJET 1500 B spray gun
Water -based paint spraying has become the mainstream of the industry. Choose a cost -effective water -based paint spray gun to complete the spraying work quickly and efficiently. The smooth switch of the paint to the water -based paint.
Features
In
It can meet the spraying requirements of car repair paint. Water -based paint, solvent color paint, varnish, and dual -component paint can achieve the ideal effect;
Optimized atomization effect, suitable and uniform spray amplitude;
Rich and fashionable blue anode oxidation processing gun body and black control components;
More flexible spraying air pressure range: 0.5 ~ 2.4 tribes;
More flexible spray distance range: 10 ~ 21 cm;
Lower spraying air pressure, saving more paint;
There are two models of HVLP and RP to choose from;
Standard intake pressure decreases from 2.0 -chiba to 1.8 bar, and at a lower air pressure atomized coating, thereby reducing spraying and VOC emissions to meet environmental requirements;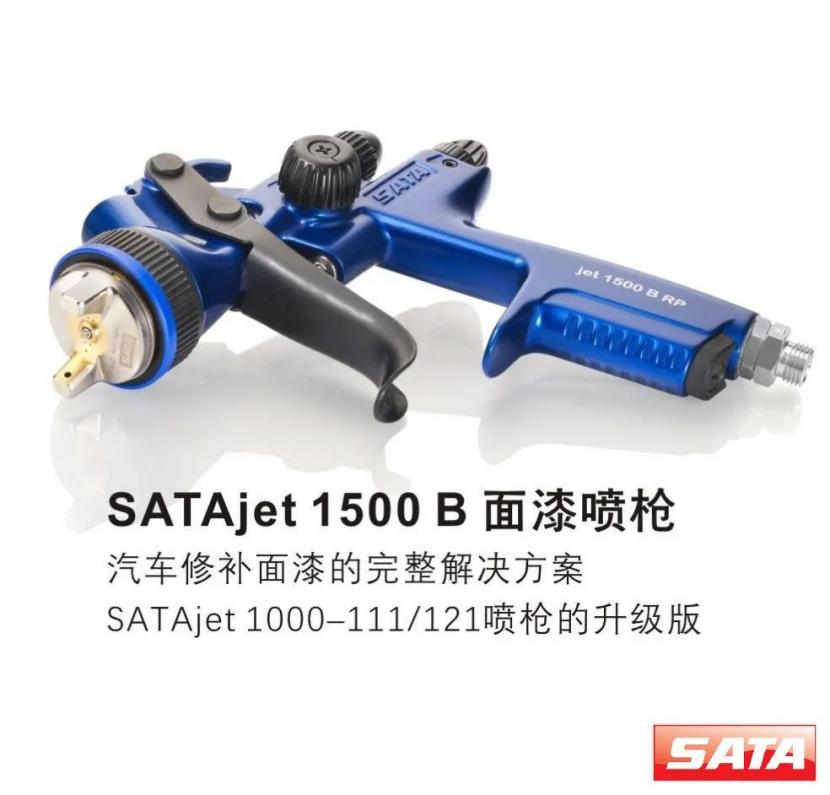 The range of spraying air pressure and spray distance is also more flexible, which improves the handling of spray guns and saves paint.
At present, more and more 4S shops have begun to use water -based paint, and a variety of high -end car brands, such as Mercedes -Benz, BMW, Infiniti, etc., have required their sales service stations to use water -based paint across the board. The most important advantage of water -based paint is good and has a strong weather resistance. The most important advantage is that it hurts the human body. Except for the price, the reason is that the reasons for refusing to use water -based paint cannot be found. The SataJet 1500 B spraying gun is a weapon for water -based paint spray. It is a high -quality endorsement with a well -deserved water -based paint. It has absolute confidence in craftsmanship and materials and is worth choosing and use.
Note: The introduction of this article about "SATAJET 1500 B Spray Gun" quotes from the WeChat public account "SATA spray gun". It aims to share and explore high -quality auto repair tools. If there is any infringement, please contact the change!
In
In
In
In
In
In
In
In
In order to answer your doubts, the above is what we have organized about water based spray paint, hope it can help you.